Dunk Tank & Water Games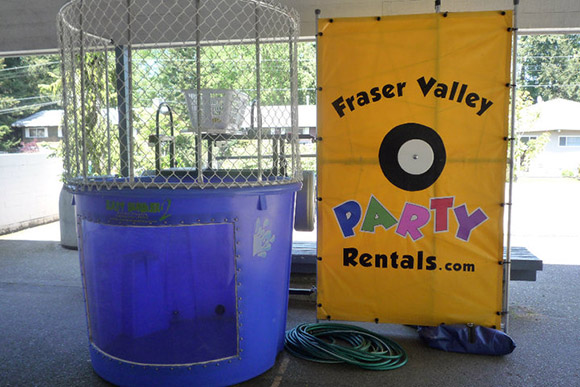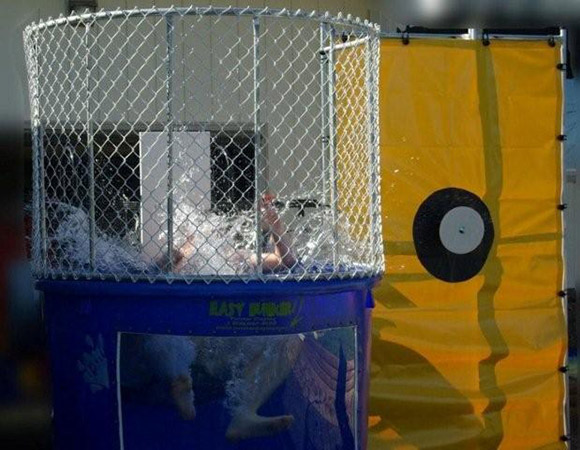 Starts at $250.00
(up to 8 hours)
Book This!
Schedule your rental or booking today! Please click on the link above and send us an email or call 604.845.3877 to get started.
Dunk Tank
Add a splash to your next event! We supply the dunk tank, 100 feet of garden hose, and the balls to throw. You supply the water source. Great for fundraisers or corporate events (dunk your boss!).
What are the requirements for setting up the dunk tank?
You will need at least a 9 foot square area on grass or concrete that is within 100 feet of a water source. You will be responsible for providing the water necessary for filling the tank. Please note the dunk tank is a large and heavy object. It will not fit through a regular sized door or gate and cannot be lifted over a fence.
How much water does the tank require?
The tank requires approximately 500 gallons of water. You should have a water
source available at all times. As the tank gets used the water level lowers and you may need to top it off occasionally throughout the day.
How long does it take to fill?
With a standard garden hose (and regular water pressure) it will take around 1 to 1.5 hours to fill.
Who can sit in the dunk tank?
Anyone who is at least 5 feet in height, weighs less than 250 pounds, and can swim.
How far back should we place the line to throw the balls from?
For children we recommend 10 to 15 feet. For adults we recommend 20 feet.
What kind of surface does the tank need to be placed on?
Grass or pavement is ok. Grass is preferable as the balls don't roll as far. Placement of the tank should be in the sunlight, if possible, to help heat the water. Try to keep it out in the open so the sun can stay on it throughout your event. Please have the area free from rocks, glass, or other debris. If we deem it to be unsafe for our tank and/or user, we will not set it up.
How long is the rental for?
The rental is for as long as you may require it up to 8 hours. However, you are responsible for the unit, so please make sure it is delivered when you need it and not too early, and make sure you arrange for pick up as soon as your event ends. Please note the latest pick up time is 10:00 PM.
Dimensions: 9' square area grass or concrete
Min. Space Required: 9' square area within 100 ft of a water source
Recommended Age: All! Anyone who is at least 5 feet in height, weighs less than 250 pounds, and can swim.
*Notes
The above prices do not include PST/GST.
Depending on your location a delivery fee may apply. Please see "What is your delivery area?" on the FAQ's page.
Prices do not include attendants. If interested, please see "Can you provide an attendant?" on the FAQ's page.
Prices are subject to change without notice.