Beverage Service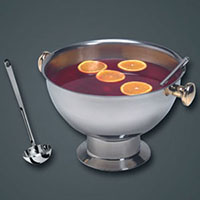 Starts at $12.00
24 hour term
Book This!
Schedule your rental or booking today! Please click on the link above and send us an email or call 604.845.3877 to get started.
Metal Punch Bowl
A stylish and sophisticated way to serve chilled beverages, this 14 qt. bowl features gold-plated side handles and a sturdy base. Its sleek shape and stainless steel design will complement any decor.
Each punch bowl comes with one clear ladle (not the metal ladle pictured).
*Notes
The above prices do not include PST/GST.
Depending on your location a delivery fee may apply. Please see "What is your delivery area?" on the FAQ's page.
Prices are subject to change without notice.